ABSTRACT
Bacteria are microscopic single-celled organisms that exist in millions inside and outside the human body. Some bacteria are harmful and can cause a multitude of diseases in human beings. Diabetes mellitus, being a global pandemic, serves as an important cause of susceptibility to bacterial infections. Uncontrolled hyperglycemia is associated with impaired innate and adaptive immune responses that predispose to bacterial infections. In addition, chronic complications of diabetes like neuropathy (sensorimotor and autonomic) and peripheral vascular disease can lead to skin ulcerations with secondary bacterial infections. Diabetes also increases the incidence of infection related mortality. The relationship of diabetes and bacterial infections can be reciprocal, with certain infections like periodontitis exacerbating insulin resistance. Abnormalities in the bacterial flora of the gastrointestinal tract can play a role in the development of diabetes. Bacteria can infect any organ in the human body, the most common sites of infection in diabetes being the urinary tract, respiratory tract, skin, and soft tissues. Certain bacterial infections are very specific for diabetes like emphysematous pyelonephritis, emphysematous cholecystitis, and malignant otitis externa. Different antibiotic regimens (empirical and culture-specific) have been recommended for different bacterial infections, depending upon the site and severity. Our chapter gives an overview of the various bacteria, important from the standpoint of diabetes. We have also discussed the epidemiology and pathogenesis of bacterial infections in diabetes. In addition, we have highlighted the spectrum of bacterial infections and their management in diabetes. Stringent glycemic control, vaccination, adequate foot care practices, source control are some of the preventive measures to avoid bacterial infections in diabetes. Adequate knowledge about the spectrum and management of bacterial infections is important to prevent morbidity and mortality in diabetes.
INTRODUCTION
Diabetes is on the rise worldwide, with a global prevalence in adults in 2019 being 9.3% of the world population. In total numbers, this reflects a population of 463 million people with diabetes worldwide in 2019, with a projection of an increase to 700 million adults by 2045. A further 1.1 million children and adolescents under the age of 20, live with type 1 diabetes (1). The association between diabetes and bacterial infections is well recognized clinically and further adds to the morbidity associated with diabetes and its complications (2).
Patients with diabetes have a two-fold higher risk of community-acquired bacterial infections such as pneumococcal, streptococcal, and enterobacterial infections as compared with patients without diabetes (3-5). Urinary tract infections are more frequent in patients with diabetes. Janifer et al reported a high prevalence of 42.8% in 1157 South Indian subjects with type 2 diabetes (6). In a large retrospective cohort study in England comparing 102,493 patients with diabetes mellitus vs. n = 203,518 matched control subjects, incidence rate ratios (IRR) for infection-related hospitalizations were 3.71 (95% CI, 3.27 to 4.21) in those with type 1 diabetes mellitus and 1.88 (95% CI, 1.83 to 1.92) in those with type 2 diabetes mellitus (7). Diabetes is also associated with an average twofold higher risk of infection related mortality compared with individuals without diabetes (8).
Increased incidence and severity of bacterial infections in diabetes has been linked to an impaired innate and adaptive immune responses within the hyperglycemic environment (9).
Apart from hyperglycemia, other chronic complications of diabetes may also predispose patients to infections. For example, neuropathy in combination with peripheral vascular disease in diabetes can lead to ulcerations in the skin and secondary infections (10).
There is a bidirectional relationship between diabetes and bacterial infections. While diabetes increases the susceptibility to bacterial infections and its complications, chronic infections such as periodontitis is associated with increased pro inflammatory cytokines which can exacerbate insulin resistance and worsen glycemic control (11). There is a recent growing evidence that abnormalities in the microbiota composition can have a major role in the development of diabetes (12).
Awareness regarding the complex inter relationships between diabetes and associated bacterial infections is important for prevention and prompt treatment. A wide spectrum of bacterial infections such as malignant otitis externa, emphysematous pyelonephritis, emphysematous cholecystitis tend to be more common in diabetics than in others, and other infections may be more severe in diabetics than in nondiabetics (13). Infections may also be the first manifestation of long-standing unrecognized diabetes (14). The following figure illustrates the classification of medically important bacteria (15).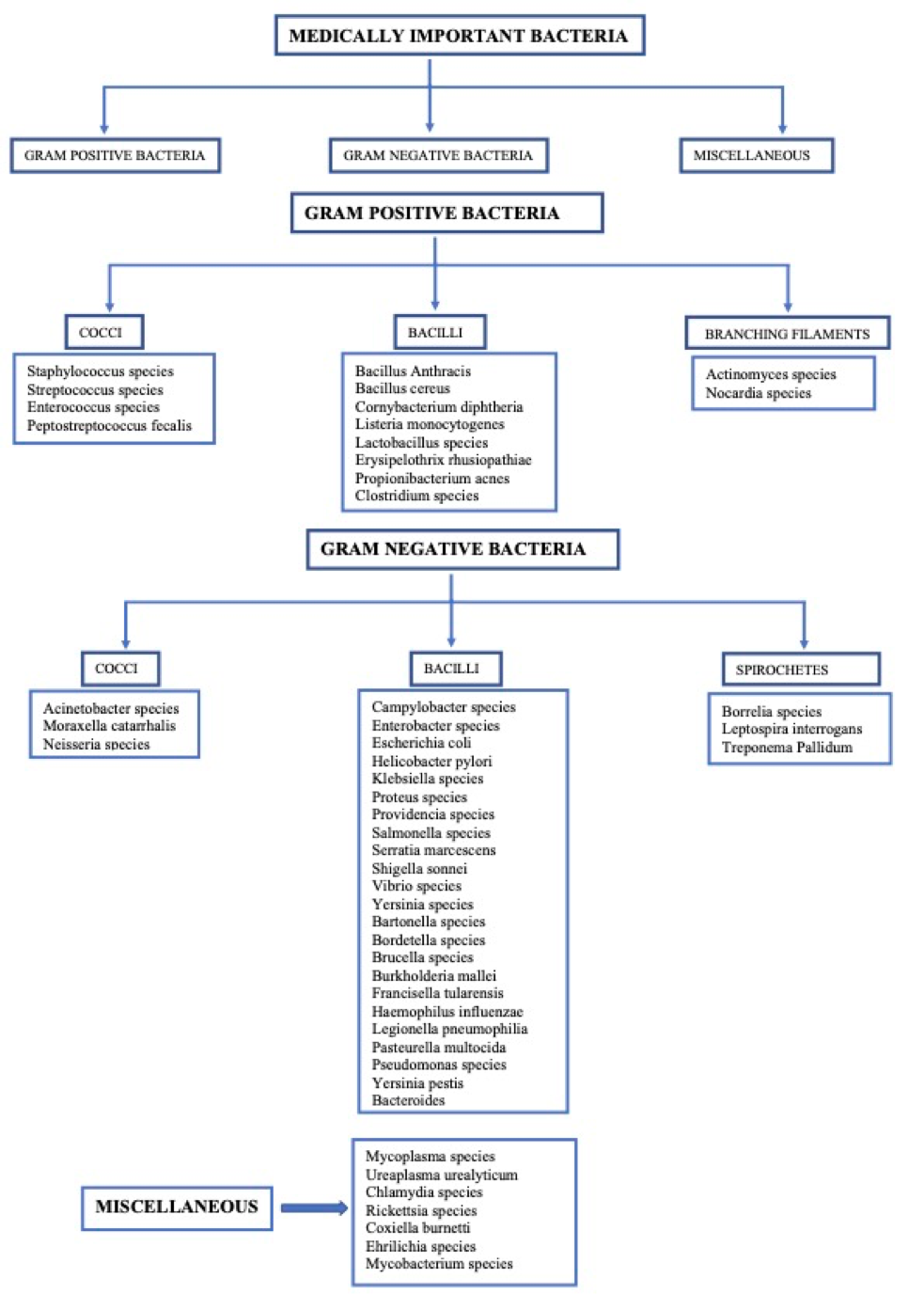 Fig 1. Classification of medically important bacteria
EPIDEMIOLOGY OF COMMON BACTERIAL INFECTIONS IN DIABETES
Epidemiology of common bacterial infections in diabetes with associated pathogens is shown in Table 1.
Table 1. Epidemiology of Common Bacterial Infections in Diabetes with Associated Pathogens

Epidemiology

Pathogens

Ref

Bacterial meningitis

Relative Risk = 2.2 (95% CI, 1.9–2.6) in diabetes compared to patients without diabetes

S pneumonia

Listeria monocytogenes

16

Malignant otitis externa

Odds ratio of prior diabetes in Malignant otitis externa is 10.07 (95% CI, 8.15-12.44)

Pseudomonas aeruginosa

17,18

Periodontitis

Odds Ratio = 1.34 (95% CI, 1.07–1.74) for periodontitis in diabetes  compared to patients without diabetes

Staphylococcus species

Streptococcus species

Bacillus species

E. Coli

19,20

Community Acquired pneumonia

(CAP)

Relative risk = 1.64 (95% CI 1.55–1.73) for CAP in patients with diabetes

Streptococcus pneumoniae

Legionella

Haemophilus influenza

21,22

Hospital Acquired pneumonia

Incidence Rate Ratio = 1.21, (95% CI,1.03–1.42) for postoperative pneumonia in diabetes

Pseudomonas species

Staphylococcus aureus

23, 24

Infective endocarditis

Odds ratio =1.9 (95% confidence interval 1.8-2.1)

Streptococcus viridans

Staphylococus aureus

Enterococcus species

25,26

Emphysematous Cholecystitis (EC)

60% of patients with EC had diabetes

Clostridium perfringens

Escherichia coli

27,28

Pyogenic liver abscess

Relative Risk = 3.6 (95% CI 2.9-4.5) in diabetes

Klebsiella pneumoniae

29,30

Urinary tract Infections

In patients with type 1 DM, adjusted odds ratio = 1.96 (95 % CI, 1.49–2.58)

In patients  with type 2 diabetes, adjusted Odds ratio = 1.24 (95 % CI, 1.10–1.39)

Escherichia coli

Other Enterobacteriaceae such as Klebsiella spp., Proteus spp., Enterobacter spp., and Enterococci

31,32

Bacterial skin and mucous membrane infections

In patients with type 1 DM, adjusted odds ratio = 1.59 (95 % CI, 1.12–2.24)

In patients  with type 2 diabetes, adjusted Odds ratio = 1.33 (95 % CI, 1.15–1.54)

Folliculitis        Group A streptococcus

                         Staphylococcus Aureus

Furunculosis     Streptococcus pneumoniae

Cellulitis

31, 33

Osteomyelitis of foot

20% of diabetic foot infections were associated with osteomyelitis.

More often poly-microbial

Gram positive : Staphylococcus aureus, Staphylococcus epidermidis, Streptococci, Enterobacteriaceae

 

Gram Negative : Escherichia coli, Klebsiella pneumonia,  Proteus, Pseudomonas aeruginosa

34,35
GLYCEMIC CONTROL AND RISK OF INFECTIONS
Poor glycemic control increases the risk of infections in diabetes. A recent study examined the association between glycemic control in 85,312 patients with diabetes mellitus aged 40–89 years and the incidence of infection (36).  Infection rates rose steadily with HbA1c, which was particularly evident among those with HbA1c >11% (36).
 INCREASED INCIDENCE OF INFECTIONS IN DIABETES: PATHOPHYSIOLOGY
Infections are an important concern in individuals with diabetes due to the immune system's failure to fight off invading pathogens (37). Diabetes progression itself is associated with immune dysfunction; autoimmunity in T1DM and low-grade chronic inflammation in T2DM (38).
Numerous studies have investigated the diabetes-related mechanisms that impair the host's defence against pathogens. These mechanisms include a complex interplay between the host's innate immunity and adaptive immunity (39, 40, 41). As noted earlier, chronic complications of diabetes can also predispose to infections (10).
The proposed mechanisms for increased susceptibility to infections in diabetes are depicted in figure 2.

Fig 2. Complex interactions between immune dysregulation (both innate and adaptive) from glycemic status, organism specific factors and diabetic complications plays major role in development of diabetes related infections.
Innate immunity
Cellular innate immunity is affected in uncontrolled diabetes. The steps involved in pathogen elimination by polymorphonuclear (PMN) leucocytes are:
(a) PMN adhesion to vascular endothelium, initially via the cell surface adhesion molecule L-selectin and then integrins
(b) transmigration through the vessel wall down a chemotactic gradient
(c) phagocytosis and microbial killing (2).
Hyperglycemia induces an increase in intracellular calcium concentration thereby reducing adenosine triphosphate (ATP) levels, which in turn leads to reduced phagocytic ability of polymorphonuclear cells. Correction of hyperglycemia leads to a significant reduction in intracellular calcium levels, an increase in ATP content, and improved phagocytosis (42). The hyperglycemic environment also inhibits glucose-6-phosphate dehydrogenase (G6PD) with resultant increase in apoptosis of polymorphonuclear leukocytes, and reduced polymorphonuclear leukocyte transmigration through the endothelium. Superoxide production is reduced in parallel with increasing glycemic exposure and consequently results in decreased microbial killing (2). Hyperglycemia is associated with increased formation of advanced glycation end products (AGE). AGE albumin has been shown to bind to the receptor for AGE (RAGE) present on neutrophils. This binding inhibits transendothelial migration and Staphylococcus aureus induced production of reactive oxygen species (ROS), resulting in impaired bacterial killing (43). Hyperglycemia also adversely affects the humoral component of innate immunity. Deficiency of C4 complement as well as decreased complement activation has been demonstrated in diabetes. This results in decreased opsonisation and phagocytosis of microbes. (44,45). Increased duration of cytokine response, increased pro-inflammatory cytokine gene expression and impaired local cytokine production leads to a dysregulated cytokine response in uncontrolled diabetes further increasing susceptibility to severe infections (46, 47, 48). 
Adaptive Immunity
There are two broad classes of adaptive immunity responses—antibody responses and cell-mediated immune responses, which are carried out by B cells and T cells respectively. In antibody responses, B cells are activated to secrete immunoglobulins which bind to the invading microbial antigens and block their binding to receptors on host cells. Antibody binding also marks invading pathogens for destruction by the phagocytes (49). Decreased levels of circulating immunoglobulins (IgG antibodies) as well as increased non enzymatic glycation of IgG antibodies leading to quantitative and qualitative defects in the humoral responses have been demonstrated in uncontrolled diabetes (50,51).
In cell-mediated immune responses, the second class of adaptive immune response, T cells which are activated by certain cytokines and antigen presenting cells, react directly against a foreign antigen that is presented to them on the surface of a host cell or themselves secrete cytokines that activate macrophages to destroy the invading microbes after phagocytosis (47). Dysregulation between anti-inflammatory and proinflammatory cytokines and defects at the level of antigen presenting cells in uncontrolled diabetes leads to dysfunction of T cells (52, 53). The role of immune systems and pathogenesis of bacterial infections is depicted in figure 3.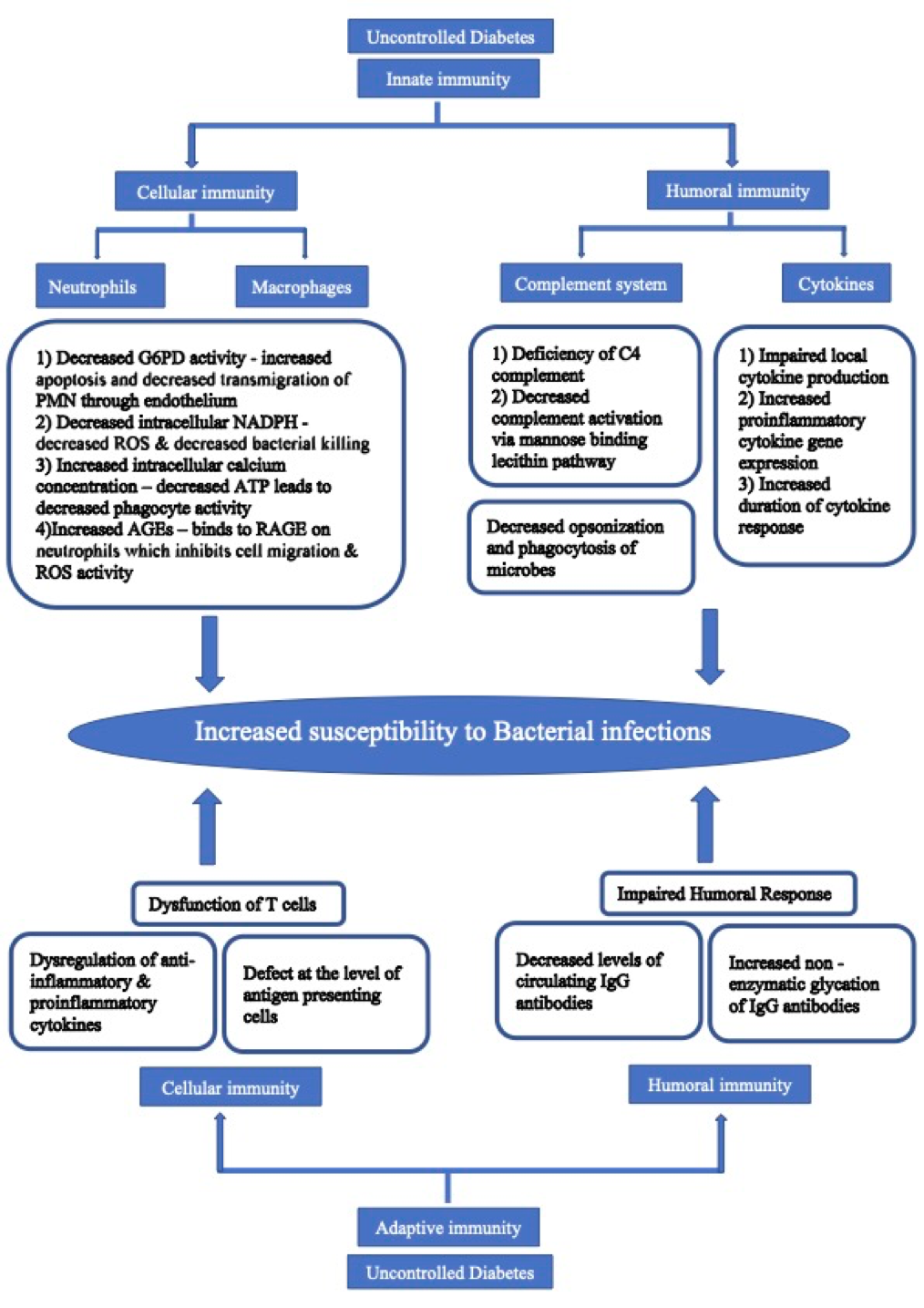 Fig 3. Pathogenesis of bacterial infections in diabetes. Describes role of various components of innate and adaptive immunity in pathogenesis of bacterial infection in diabetes; G6PD-Glucose 6 phosphate dehydrogenase; PMN-Polymorphonuclear cells; NADPH – Nicotinamide adenine dinucleotide phosphate; ROS- Reactive oxygen species; ATP -Adenosine triphosphate; AGEs- Advanced glycation end products; RAGE-Receptor for advanced glycation end products. 
Chronic Complications of Diabetes Predisposing to Infections
Over 50% of men and women with diabetes have bladder dysfunction which may impair voiding and increase the risk for urinary tract infections (54). The presence of renal disease and urinary incontinence in women are also predisposing factors for urinary tract infections. Diabetic cystopathy secondary to autonomic nervous dysfunction in long standing diabetes is characterized by a loss of sensation of bladder distension leading to decreased frequency of voiding and increased post-void residual urine volume. The possibility that voiding disorders may contribute to UTI should be considered in all diabetic patients (55).  
Peripheral diabetic neuropathy contributes to motor, autonomic, and sensory components of neuropathic foot ulcers. Damage to motor neurons of the foot musculature may lead to an imbalance of flexors and extensors, anatomic deformities, and eventual skin ulcerations. Damage to autonomic nerves impairs sweat gland function in the foot leading to a decreased ability to moisturize skin, resulting in epidermal cracks and skin breakdown. Lastly, the affected sensory component results in a loss of sensation of foot and reduced awareness of minor injuries (56). With ischemia, often as a result of related peripheral arterial disease, neuropathy can result in impaired barrier defences, skin ulcers with poor healing, and an increased risk of secondary infections and gangrene (57).
Pulmonary autonomic neuropathy in diabetes reduces mucociliary clearance and predisposes the lung to infections. Furthermore, hyperglycemia and insulin resistance impair collective surfactant D-mediated host defences of the lung in diabetes. Loose junctions between airway epithelial cells, which increase the transepithelial glucose gradient along with an increase in the glucose concentration of the airway surface liquid due to hyperglycemia, may dampen the airway defence against infection, resulting in lung bacterial overgrowth in diabetes (58).
SPECTRUM OF BACTERIAL INFECTIONS
Head and Neck Infections
BACTERIAL MENINGITIS
The majority of bacterial meningitis cases in adults is caused by Streptococcus pneumoniae. Listeria monocytogenes meningitis is more often found in elderly patients (>60 years) and those with acquired immune-deficiencies, such as diabetes. Immunodeficiency associated with diabetes is also a predisposing factor for pneumococcal and Haemophilus influenzae meningitis. Patients with bacterial meningitis and diabetes mellitus are older, have more comorbidities, frequently present with altered mental status and have higher mortality. In patients with diabetes, empirical antibiotics should include Cefotaxime/ ceftriaxone plus amoxicillin/ampicillin/ penicillin G (16, 59, 60).
MALIGNANT OTITIS EXTERNA
 Malignant otitis externa (MOE) is an invasive, potentially life-threatening infection of the external ear and skull base. MOE affects immunocompromised individuals and its presentation in an otherwise healthy individual should prompt an investigation for diabetes mellitus or other immune-deficiencies. In most cases, the causative agent of MOE is Pseudomonas aeruginosa. Typical patients with MOE are elderly individuals who have diabetes and severe, unremitting otalgia, aural fullness, otorrhea, and conductive hearing loss. Headache, temporomandibular joint pain, and decreased oral intake secondary to trismus may also be present. Findings of pain disproportionate to the examination, otorrhea, and granulation tissue along the floor of the ear canal at the bony–cartilaginous junction are usually the first nonspecific signs and symptoms of MOE. Important principles of treatment include aggressive control of diabetes and culture directed antibiotic therapy for at least 6-8 weeks. Although surgical intervention is no longer standard of care for MOE, it does require biopsy and culture, and may require local debridement of granulation tissue and bony sequestration or drainage of associated abscess. Long-term monotherapy with oral ciprofloxacin (750 mg twice daily) has been proposed as the preferred initial antibiotic regimen. However, microbial resistance to ciprofloxacin has been described and numerous studies have proposed carbapenem or third- generation cephalosporins as the initial empirical treatment. Recurrence rates of 15% to 20% have been reported for MOE (18, 61, 62). The risk factors for malignant otitis externa and its pathogenesis in diabetes are depicted in figure 4.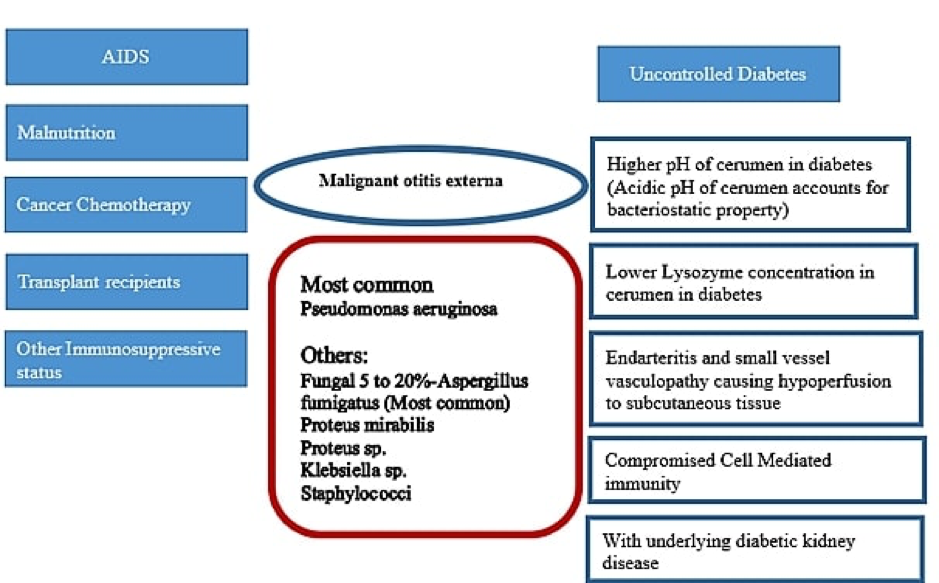 Fig 4. Risk factors for Malignant Otitis Externa and its pathogenesis in diabetes
PERIODONTITIS
Periodontitis is a complex chronic inflammatory condition in which inflammation in the periodontal tissues is stimulated by the long-term presence of the subgingival biofilm (figure 5). Periodontitis is a slowly progressing disease but the tissue destruction that occurs is largely irreversible. In the early stages, the condition is typically asymptomatic, is not usually painful, and many patients are unaware until the condition has progressed enough to result in tooth mobility. Advanced periodontitis is characterized by gingival erythema and edema, gingival bleeding, gingival recession, tooth mobility, suppuration from periodontal pockets, and tooth loss. In a randomized clinical trial, intensive periodontal treatment was associated with better glycemic control (A1C 8.3% vs 7.8% in control subjects and intensive treatment group respectively). Oral and periodontal health should be promoted as integral components of diabetes management (63, 64).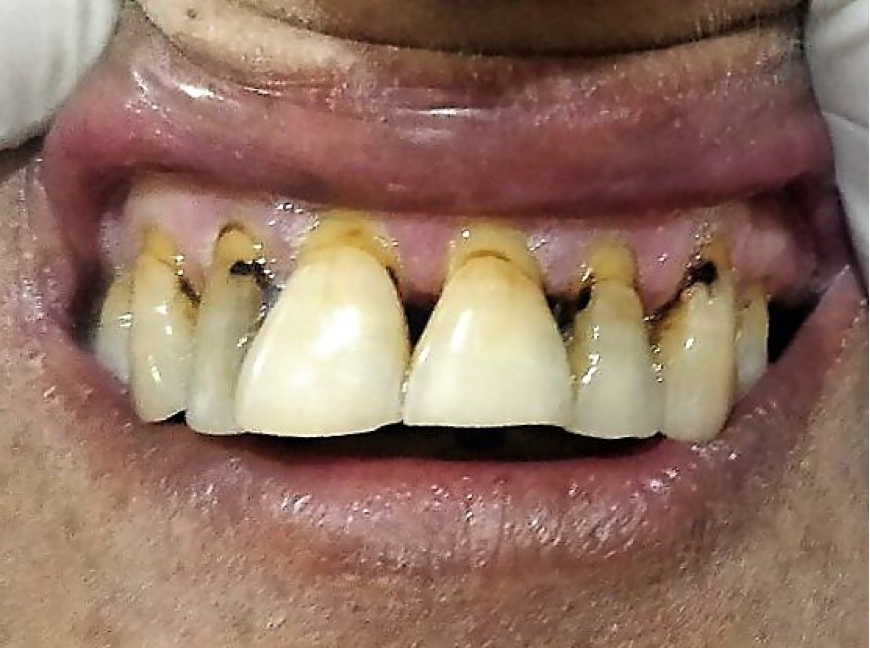 Fig 5. Chronic periodontitis with gingival inflammation in a patient with poorly controlled diabetes
DEEP NECK SPACE INFECTIONS/ABSCESS
Patients with diabetes are susceptible to spreading deep neck infections with a high frequency of complications, including tracheostomy and prolonged hospital stay. Odontogenic infections and upper airway infections are the leading reported causes of deep neck infections and the most common organism isolated is Klebsiella pneumoniae.  Early open surgical drainage remains the most appropriate method of treating deep neck abscesses. The choice of empirical antimicrobial agents in diabetic patients should take into account the agents effective against Klebsiella pneumoniae (65).
Respiratory Infections
COMMUNITY ACQUIRED PNEUMONIA
Patients with diabetes are at high risk of hospitalization due to community acquired pneumonia (CAP) (figure 6). Atypical clinical features like impaired consciousness and more severe pneumonia at admission are reported in patients with diabetes. Acute onset of disease, cough, purulent sputum, and pleuritic chest pain are less frequent among patients with diabetes. S. pneumonia, Legionella, and H influenza are frequent causative organisms of pneumonia in diabetes (22). Studies have also reported increased incidence of Klebsiella and pneumococcal pneumonia (3, 66). Independent risk factors for mortality in patients with diabetes and CAP are advanced age, bacteremia, septic shock at admission, and gram-negative pneumonia (22). The American Thoracic Society guidelines recommend combination therapy with amoxicillin/ clavulanic acid/ cephalosporin and macrolide/ doxycycline or monotherapy with respiratory fluoroquinolone for initial outpatient treatment in patients with diabetes. Beta lactam + macrolide or beta-lactam + fluoroquinolone is recommended in cases of severe in-patient pneumonia. Coverage for Pseudomonas aeruginosa is recommended in case of prior respiratory isolation, recent hospitalization with parenteral antibiotics treatment, and locally validated risk factors for Pseudomonas aeruginosa (67). The American Diabetes Association recommends vaccination against pneumococcal strains with one dose of PPSV23 (pneumococcal polysaccharide vaccine) between the ages of 19–64 years and another dose after 65 years of age. The PCV13 (pneumococcal conjugate vaccine) is no longer routinely recommended for patients over 65 years of age because of the declining rates of pneumonia due to these strains. All children are recommended to receive a four-dose series of PCV13 by 15 months of age. For children with diabetes who have incomplete series by ages 2–5 years, a catch-up schedule is recommended to ensure that these children have four doses. Children with diabetes between 6–18 years of age are also advised to receive one dose of PPSV23, preferably after receipt of PCV13 (68).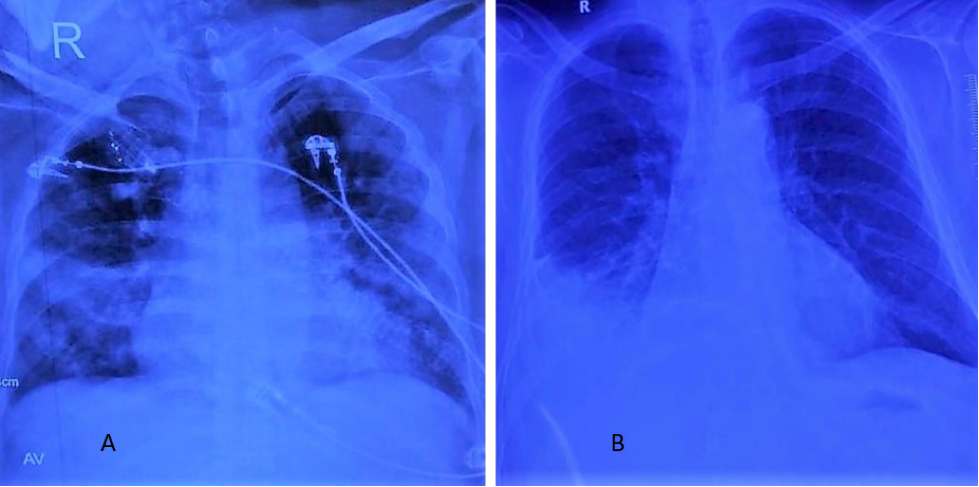 Fig 6. Radiographs of lower respiratory tract infection. A- Postero-anterior view radiograph of chest showing right middle lobe and left lower lobe consolidation in a patient with diabetes. B- Postero-anterior view radiograph of chest showing right lower lobe consolidation in a patient with diabetes
Cardiovascular Infections  
INFECTIVE ENDOCARDITIS
Infective endocarditis (IE) in diabetes is associated with poorer outcomes (figures 7 and 8). Diabetes mellitus was associated with increased mortality, acute heart failure, stroke, atrioventricular block, septic shock, and cardiogenic shock. The clinical profile of native valve infective endocarditis (NVIE) patients with diabetes is reported to be different compared to those without diabetes. Patients with diabetes had higher rates of comorbidities, and IE risk factors such as older age, and hemodialysis. They were less likely to have structural heart disease (valvular heart disease and congenital heart disease) and intravenous drug abuse. Patients with diabetes had higher rates of staphylococcus species, enterococci, and gram-negative microorganisms reflecting the increased health care utilization in DM patients, exposing them to nosocomial infections (26). Ampicillin with flucloxacillin or oxacillin with gentamicin is recommended as initial empirical therapy in community acquired native valves or late prosthetic valves (≥ 12 months post-surgery) endocarditis. Vancomycin with gentamicin and rifampicin is recommended in early PVE (<12 months post-surgery) or nosocomial and non-nosocomial healthcare associated endocarditis (69).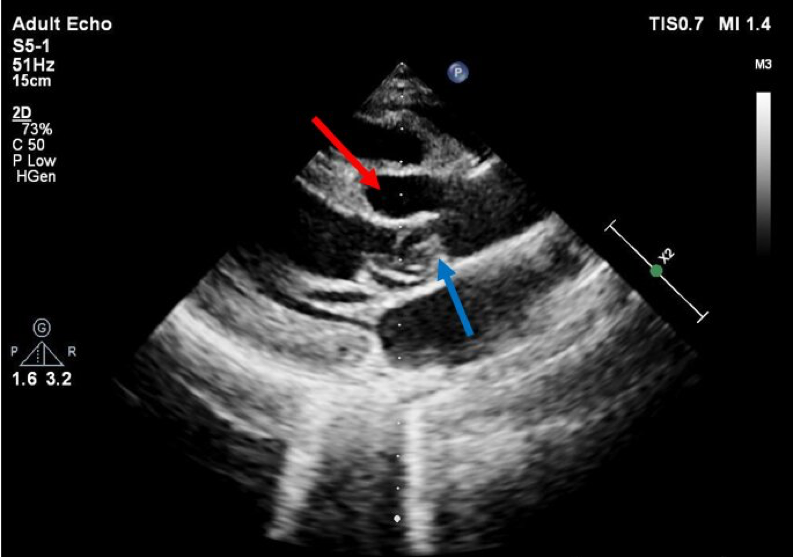 Fig 7. Two-dimensional Echocardiography of a patient with diabetes showing aortic root abscess (red arrowhead) and vegetations attached to aorto-mitral continuity (blue arrowhead), suggestive of infective endocarditis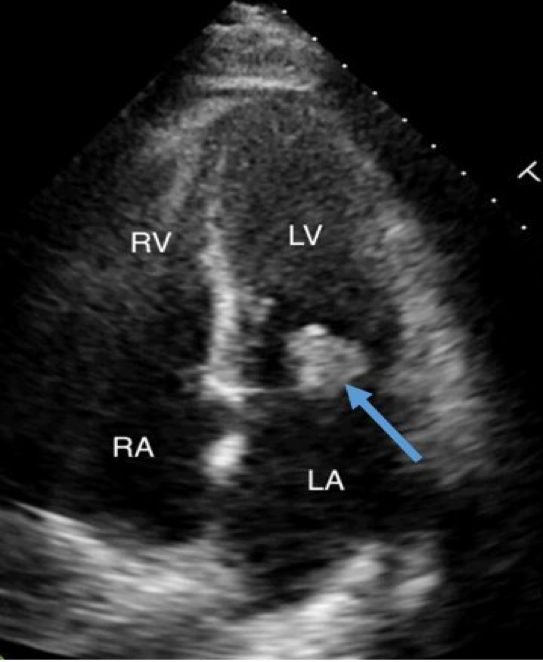 Fig 8. Two-dimensional echocardiography in a patient with diabetes, showing large vegetation (blue arrowhead) attached to the posterior mitral leaflet, suggestive of infective endocarditis
Gastrointestinal Infections  
EMPHYSEMATOUS CHOLECYSTITIS
Emphysematous cholecystitis (EC) is an uncommon but serious biliary tract infection that occurs in increased frequency with male preponderance among diabetics. The common causative organisms are Clostridium perfringens and E. coli (28). Clinical findings of EC may be indistinguishable from those of uncomplicated cholecystitis although occasional crepitus may be present in some patients. The emphysematous infection is diagnosed by radiographic demonstration of gas on plain films or by CT. The treatment of choice is rapid surgical removal of the gallbladder and broad-spectrum antimicrobial therapy. Mortality caused by this infection is substantially higher than that of uncomplicated cholecystitis, ranging 15% to 25% compared with less than 4 percent (13).
LIVER ABSCESS
Diabetes is a strong, potentially modifiable risk factor for pyogenic liver abscess (figure 9). Pyogenic liver abscess patients with diabetes are older, with isolate of Klebsiella. pneumoniae being the predominant pathogen and require an increased use of combined antibiotic therapy with carbapenems. However, these patients have fewer abdominal surgeries and fewer E. coli infections as compared to patients without diabetes. In addition, poorly controlled glycemia in pyogenic liver abscess patients is associated with high incidence of fever and abscesses in both the lobes of the liver (29, 30).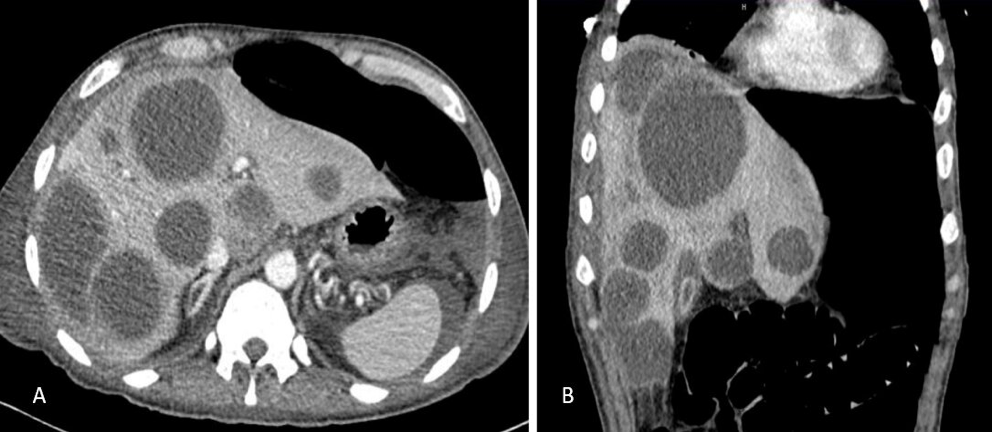 Fig 9. Contrast enhanced axial (A) and sagittal (B) CT images showing multifocal well defined hypodense lesions involving both lobes of liver suggestive of liver abscesses in a patient with diabetes 
Urinary Tract Infections
The urinary tract is the most frequent site of infection in patients with diabetes (8, 70, 71). The spectrum of urinary tract infections in these patients ranges from asymptomatic bacteriuria (ASB) to lower UTI (cystitis), pyelonephritis, and severe urosepsis. Serious complications of UTI, such as emphysematous cystitis and pyelonephritis (figure 10), renal abscesses and renal papillary necrosis, are all encountered more frequently in type 2 diabetes than in the general population (72, 73).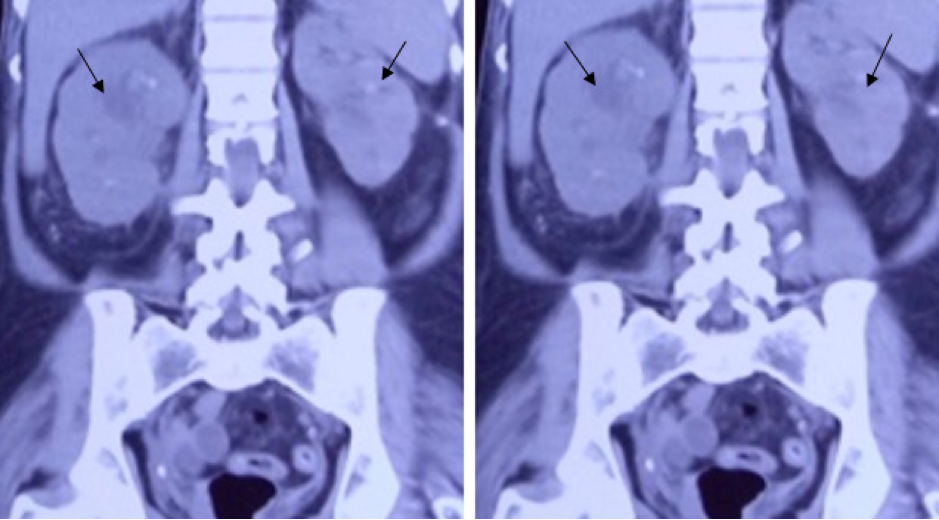 Figure 10. Emphysematous pyelonephritis. Non contrast CT abdomen of a 45-year-old female with emphysematous pyelonephritis showing bilateral enlarged kidney with evidence of abscess formation on either side (black arrowheads) and air pockets in left kidney
The most common pathogens isolated from diabetic patients with UTI are E. coli, other Enterobacteriaceae such as Klebsiella spp., Proteus spp., Enterobacter spp., and Enterococci. Patients with diabetes are more prone to have resistant pathogens as the cause of their UTI, including extended-spectrum β-lactamase-positive Enterobacteriaceae, fluoroquinolone-resistant uropathogens, carbapenem-resistant Enterobacteriaceae, and vancomycin-resistant Enterococci. (32, 74).
As a general rule, treatment of UTI in diabetic patients is similar to that of UTI in non-diabetic patients. Antibiotic choice should be guided by local susceptibility patterns of uropathogens. First-line treatment recommendations for various types of UTI are detailed in Table 2 (74).
Table 2. First Line Antibiotics for Various Types of UTI in Diabetes

Type of urinary tract infection (UTI)

Gender

Antibiotic treatment

Route

Dosage

Duration of treatment

Asymptomatic bacteriuria

Male and female

None

Acute cystitis

Female

Nitrofurantoin

Per oral

100 mg BD/TDS

5 days

Complicated lower UTI  (catheter associated UTI)

Male and female

Ciprofloxacin

Per oral

200-500 mg BD

7-14 days

Ofloxacin

Per oral

200 mg BD

7-14 days

Trimethoprim-Sulfamethoxazole

Per oral

960 mg BD

7-14 days

Cefuroxime

Per oral

500 mg BD

7-14 days

Uncomplicated pyelonephritis

Female

Ciprofloxacin

Intravenous

400 mg BD

7 days

Ciprofloxacin

Per oral

500 mg BD

7 days

Ofloxacin

Intravenous

400 mg BD

7 days

Gentamicin

Intravenous

5 mg/kg OD

7 days

Cefuroxime

Intravenous

750 mg TDS

7-14 days

Cefuroxime

Per oral

500 mg BD

7-14 days

Complicated pyelonephritis/urosepsis

Male and female

Ciprofloxacin

Intravenous

400 mg BD

10-14 days

Ofloxacin

Intravenous

400 mg BD

10-14 days

Gentamicin

Intravenous

5 mg/kg OD

10-14 days

Amikacin

Intravenous

15 mg/kg OD

10-14 days

Piperacillin-Tazobactum

Intravenous

4.5 g TDS

10-14 days

Ertapenem

Intravenous

1 g OD

10-14 days
OD-once daily, BD-twice daily, TDS-thrice daily
Skin and Soft Tissue Infections 
Skin and soft tissue infections (SSTI) cause a substantial morbidity in patients with diabetes (75). SSTIs commonly seen in diabetes include cellulitis, abscess, decubitus ulcer, folliculitis, impetigo, carbuncle and furuncle, and surgical site infections. SSTI-associated complications such as gangrene, osteomyelitis, bacteremia, sepsis, and SSTI-associated hospitalizations are higher in patients with diabetes compared to those without diabetes (76).
FOOT INFECTIONS IN DIABETES
Foot infections in diabetes remain the most frequent complication requiring hospitalization and the most common precipitating event leading to lower extremity amputation (figure 11) (77-79).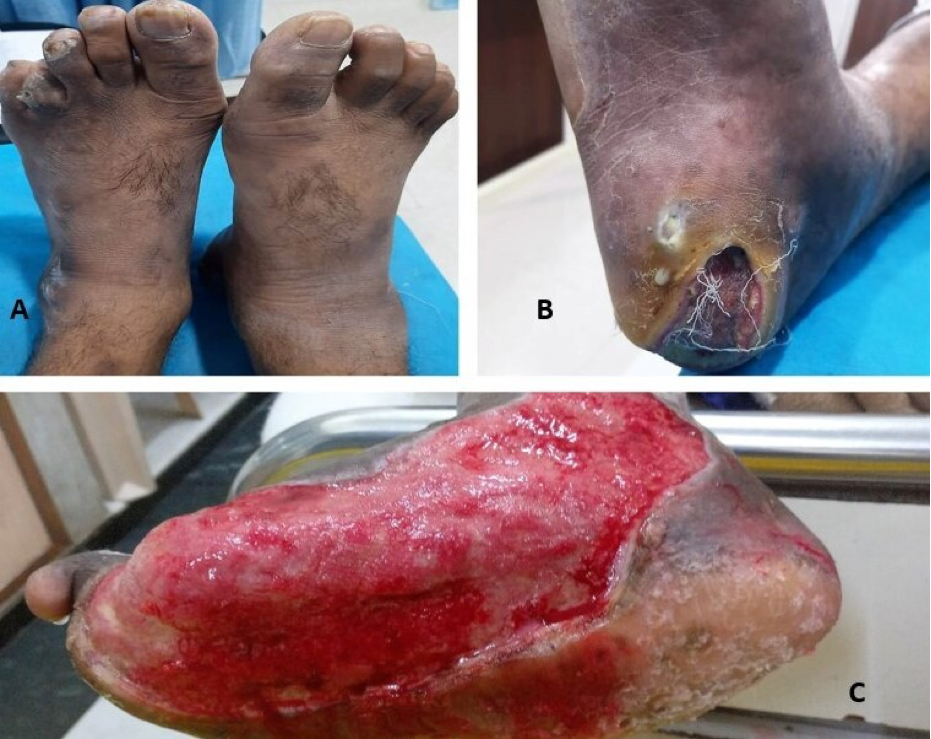 Fig 11.  A-Trophic changes in the bilateral feet of a patient with diabetes with clawing of toes, thickened toe nails, loss of hair and shiny skin texture. B-Infected foot ulcer with slough in the plantar aspect of heel of a patient with diabetes. C-Another infected foot ulcer involving the entire sole in a patient with diabetes, the ulcer shows presence of granulation tissue along with oozing of pus and slough
Outcomes in patients presenting with an infected foot ulcer are poor. In one large prospective study at the end of one year, the ulcer had healed in only 46% (and it later recurred in 10% of these), while 15% had died and 17% required a lower extremity amputation (80). There are various validated classification systems to assess the severity and prognosis of foot ulcers and infection. One such scoring system is the SINBAD system which grades area, depth, sepsis, arteriopathy, and denervation plus site as either 0 or 1 point creating an easy to use scoring system that can achieve a maximum of 6 points (81). The IWGDF (International Working Group on the Diabetic Foot) infection classification is recommended to characterize and guide infection management in diabetic foot infections. The IWGDF/IDSA (Infectious Diseases Society of America) classification consists of four grades of severity for diabetic foot infection (Table 3) (82, 83).
Table 3. IWGDF/IDSA Classification for Foot Infections

Clinical classification of infection, with definitions

IWGDF classification

Uninfected

No systemic or local symptoms or signs of infection

1 (Uninfected)

Infected

·       At least, 2 of these items are present

·       Local swelling or induration

·       Erythema >0.5 cm around the wound

·       Local tenderness or pain

·       Local increased warmth

·       Purulent discharge

And no other cause(s) of an inflammatory response of the skin (eg. trauma, gout, acute Charcot neuro-osteoarthropathy, fracture, thrombosis or venous stasis)

Infection with no systemic manifestation involving:

·       only the skin or subcutaneous tissue (not any deeper tissues) and

·       any erythema present does not extend >2 cm around the wound

2 (mild infection)

Infection with no systemic manifestation involving:

·       erythema extending ≥ 2 cm from the wound margin, and/or

·       tissue deeper than skin and subcutaneous tissue (e.g., tendon, muscle, joint, bone)

3 (moderate infection)

Any foot infection with associated systemic manifestations (of the systemic inflammatory response syndrome [SIRS]), as mentioned by ≥2 of the following:

·       Temperature >38 degree celsius or <36 degree Celsius

·       Heart rate >90 beats/ minute

·       Respiratory rate >20 breaths/minute or PaCO2 <4.3 kPa (32 mm Hg)

·       White blood cell count >12,000/mm3 or <4000/mm3 or >10% immature (band) forms

4 (Severe infection)

Infection involving bone (osteomyelitis)

Add 'O' after 3 or 4
The empirical antibiotic choice is guided by the history, clinical examination, severity of infection, likely etiological agent, and previous antimicrobial sensitivity pattern. Studies from temperate climates in North America and Europe have consistently demonstrated that the most common pathogens in diabetic foot infections are aerobic gram-positive cocci, especially Staphylococus aureus, and to a lesser extent, streptococci and coagulase-negative staphylococci. More recent studies of diabetic foot infections from patients in tropical/subtropical climates (mainly Asia and northern Africa) have shown that aerobic gram-negative bacilli are often isolated, either alone or in combination with gram-positive cocci. Empirical treatment aimed at Pseudomonas aeruginosa, which usually requires either an additional or broad-spectrum agent should be considered in tropical/subtropical climates or if Pseudomonas aeruginosa has been isolated from previous cultures of the affected patient. Obligate anaerobes can play a role in diabetic foot infections, especially in ischemic limbs and in case of abscesses. Empirical treatment of these pathogens, e.g., with an imidazole (metronidazole), or beta-lactam with beta lactamase inhibitor, should be considered for diabetic foot infection associated with ischemia or a foul-smelling discharge. THE IWGDF guidelines on empirical antibiotic therapy for diabetic foot infections are outlined in table 4 (83).
Table 4. Empirical Antibiotic Therapy Recommended by IWGDF Guidelines for Diabetic Foot Infections

Severity of infection

Additional factors

Usual pathogen(s)

Potential empirical regimens

Mild

No complicating features

Gram positive cocci

Semi synthetic penicillin; 1st generation cephalosporins

Beta lactam allergy or intolerance

Gram positive cocci

Clindamycin;Fluroquinolone;Trimethoprim-sulfamethoxazole;Macrolide;Doxycycline

Recent antibiotic exposure

Gram positive cocci + Gram negative rods

β-lactamase inhibitor-amoxicillin/clavulanate; Trimethorpim-sulfamethoxazole; Fluoroquinolone

High risk for MRSA

MRSA

Linezolid; Trimethoprim-sulfamethoxazole; doxycycline; macrolide

Moderate or severe

No complicating features

Gram positive cocci ± Gram negative rods

β-lactamase inhibitor-amoxicillin/clavulanate; second or third generation cephalosoporins

Recent antibiotic exposure

Gram positive cocci ± Gram negative rods

β-lactamase 2-ticarcillin/clavulanate, piperacillin/tazobactum; 3rd generation cephalosporins; group I carbapenems (depends on prior therapy)

Macerated ulcer or warm climate

Gram negative rods including pseudomonas

β-lactamase 2-ticarcillin/clavulanate, piperacillin/tazobactum; semi synthetic penicillins + ceftazidime; semi synthetic penicillins + ciprofloxacin; group 2 carbapenems

Ischemic limb/necrosis/gas forming

Gram positive cocci ± Gram negative rods ± Anaerobes

β-lactamase inhibitor or 2; group 1 or 2 carbapenems; 2nd or 3rd generation cephalosporins + clindamycin or metronidazole

MRSA risk factors

MRSA

Consider adding or substituting with glycopeptides; linezolid; daptomycin; fusidic acid; trimethoprim-sulfamethoxazole ± rifampicin; doxycycline

Risk factors for resistant gram negative rods

ESBL

(Extended spectrum beta lactamase producing bacteria)

Carbapenem; Aminoglycoside and Colistin; Fluoroquinolone
MRSA-Methicillin resistant Staph aureus ; 1st generation cephalosporins-Cefadroxil, cefazolin, cephalexin; 2nd generation cephalosporins-Cefotetan, cefoxitin, cefuroxime, cefprozil; 3rd generation cephalosporins-Cefixime, cefotaxime, cefpodoxime; β-lactamase 2-ticarcillin/clavulanate, piperacillin/tazobactum; group 1 carbapenem: ertapenem; group 2 carbapenem: imipenem, meropenem, doripenem
FOURNIER'S GANGRENE
Fournier's gangrene (FG) is a fulminant form of infective necrotising fasciitis of the perineal, genital, or perianal regions, which commonly affects men with diabetes (figure 12) (84). Diabetes mellitus is reported to be present in 20%–70% of patients with Fournier's gangrene (85). FG shows vast heterogeneity in clinical presentation, from insidious onset and slow progression to rapid onset and fulminant course, the latter being the more common presentation. The local signs and symptoms are usually dramatic with significant pain and swelling. The patient also has pronounced systemic signs; usually out of proportion to the local extent of the disease. Crepitus of the inflamed tissues is a common feature because of the presence of gas forming organisms. As the subcutaneous inflammation worsens, necrotic patches start appearing over the overlying skin and progress to extensive necrosis (86).
There has been an associated increased incidence of FG with the use of SGLT2 inhibitors in diabetes. The US Food and Drug Administration (FDA) has identified 55 cases of FG in patients receiving SGLT2 inhibitors between 2013 and 2019, out of which 39 were men and 16 were women (87). Time to onset of FG after initiation of SGLT2-inhibitors varied considerably, ranging from 5 days to 49 months (87). All patients were sick and had surgical debridement. Three patients died (87).  SGLT2-inhibitors cause glycosuria that can enhance the growth of bacterial flora in the urogenital milieu. This in turn increases the risk of urogenital infections, including FG. All types of SGLT2-inhibitors have been associated with FG. The FDA has issued a warning about the risk of FG to be added to the prescribing information of all SGLT2-inhibitors and to the patient medication guide.
Cultures from the wounds commonly show poly microbial infections by aerobes and anaerobes, which include coliforms, klebsiella, streptococci, staphylococci, clostridia, bacteroides, and corynebacteria (88). FG has a high mortality rate of 40% (85) and warrants an aggressive multimodal approach, which includes haemodynamic stabilisation, broad spectrum antibiotics and surgical debridement (86).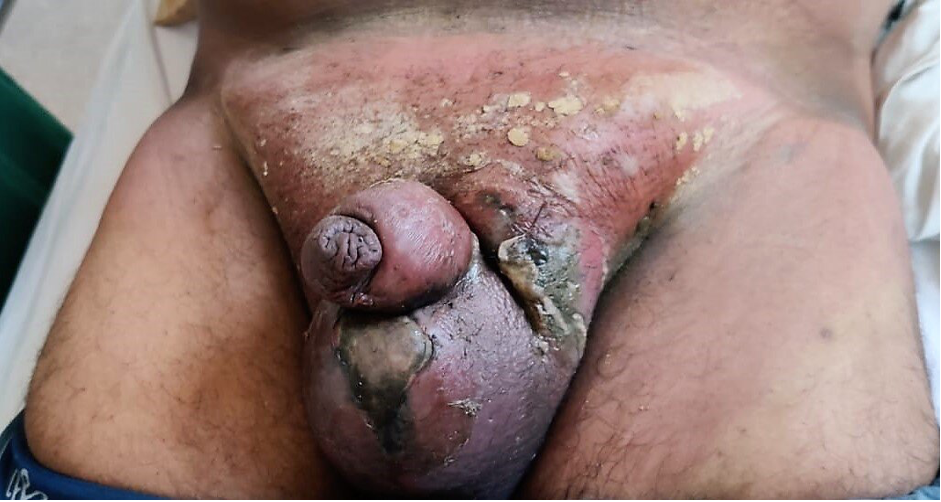 Fig 12. Fournier's gangrene. Redness, swelling of the scrotum, penis and perineal tissues with necrosis and sloughing of the overlying skin
NECROTIZING FASCIITIS
Necrotizing fasciitis (NF) has been defined as a severe soft-tissue infection that causes extensive necrosis of subcutaneous tissue and fascia, relatively sparing the muscle and skin tissue (figure 13) (89). Based on bacterial culture results, NF is classified into the following categories: type I, which consists of synergistic polymicrobial infection; type II, representing infections caused by group A Streptococcus alone or combined with Staphylococcus; and type III, which comprises infections caused by Vibrio species (90).  Diabetic NF patients are reported to be more susceptible to polymicrobial and monomicrobial Klebsiella pneumoniae infections, which should be considered when choosing empirical antibiotics for these patients (91).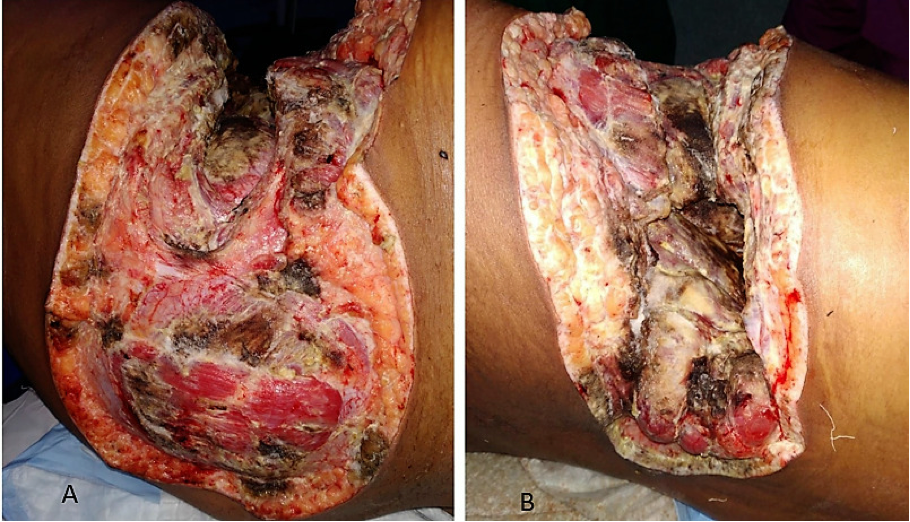 Fig 13. A and B Necrotizing fasciitis; black necrotic tissue and slough seen invading the subcutaneous tissues and fascia
INFECTION MIMICS IN DIABETES
Charcot Neuroarthropathy   
Charcot neuroarthropathy is a limb-threatening, destructive process that occurs in patients with neuropathy associated with medical diseases such as diabetes mellitus. Clinicians treating diabetic patients should be aware that the early signs of acute Charcot neuroarthropathy, such as pain, warmth, edema mimic foot infection. Early detection and prompt treatment can prevent joint and bone destruction, which, if untreated, can lead to morbidity and high-level amputation. The differentiation between acute presentations of Charcot's joint and osteomyelitis is often difficult because the two conditions have many features in common. However, the lack of systemic sepsis or fever, significant hyperglycemia and leukocytosis may direct the diagnosis towards neuropathic joint (92, 93).
INFECTIONS AS A RISK FACTOR FOR DIABETES
Infections have been documented as a predisposing factor for Type 2 Diabetes Mellitus. Recent studies have revealed H. pylori infections to be significantly higher among diabetic patients than in non-diabetic patients (94, 95). Evidence suggests that advanced periodontitis also compromises glycemic control. Furthermore, periodontal treatment has been associated with improvement in glycemic control (63, 64). Abnormalities in the microbiota composition can have a major role in the development of obesity and diabetes. A reduced microbial diversity is associated with inflammation, insulin-resistance, and adiposity.  A rise in the Firmicutes/Bacteroidetes ratio is found to be related to a low-grade inflammation and to an increased capability of harvesting energy from food. Changes in some metabolites, such as short-chain fatty acids (SCFAs), produced by gut microbiota, and decreased amounts of the Akkermansia muciniphila are associated with the presence of type 2 diabetes (12). Increased pro inflammatory cytokine response in infections leads to insulin resistance. Even pathogen products, such as lipopolysaccharide and peptidoglycans, can cause insulin resistance leading to development of diabetes (96).
CONCLUSION
Awareness regarding the spectrum and severity of infections, in diabetes, is essential for prevention and prompt treatment. Strict glycemic control, proper choice of antibiotics and source control form the cornerstones of management. Preventive measures like vaccination and foot care practises go a long way in reducing infection related morbidity and mortality in diabetes.
REFERENCES
International Diabetes Federation. IDF Diabetes Atlas, 9th edn. 2017. 
Peleg AY, Weerarathna T, McCarthy JS, Davis TM. Common infections in diabetes: Pathogenesis, management and relationship to glycaemic control. Diabetes Metab Res Rev. 2007; 23:3–13.
Thomsen RW, Hundborg HH, Lervang HH, et al. Risk of community-acquired pneumococcal bacteremia in patients with diabetes: a population-based case-control study. Diabetes Care 2004; 27:1143–7.
Thomsen RW, Riis AH, Kjeldsen S, et al. Impact of diabetes and poor glycaemic control on risk of bacteremia with haemolytic streptococci groups A, B, and G. J Infect 2011;63:8–16.
Thomsen RW, Hundborg HH, Lervang HH, et al. Diabetes mellitus as a risk and prognostic factor for community-acquired bacteremia due to enterobacteremia: a 10-year population based study among adults. Clin Infect Dis 2005; 40:628–31
Janifer J, Geethalakshmi S, Satyavani K, Viswanathan V. Prevalence of lower urinary tract infection in South Indian type 2 diabetic subjects. Indian J Nephrol. 2009 Jul; 19(3):107.
Carey IM, Critchley JA, DeWilde S, Harris T, Hosking FJ, Cook DG. Risk of infection in type 1 and type 2 diabetes compared with the general population: a matched cohort study. Diabetes Care. 2018 Mar 1;41(3):513-21.
Shah BR, Hux JE. Quantifying the risk of infectious diseases for people with diabetes. Diabetes Care. 2003 Feb 1;26(2):510-3.
Frydrych LM, Fattahi F, He K, Ward PA, Delano MJ. Diabetes and sepsis: risk, recurrence, and ruination. Front Endocrinol (Lausanne).2017 Oct 30;8:271.
Shaw JE, Boulton AJ. The pathogenesis of diabetic foot problems: an overview. Diabetes. 1997 Sep 1;46(Supplement 2):S58-61.
Mirza BA, Syed A, Izhar F, Ali Khan A. Bidirectional relationship between diabetes and periodontal disease: review of evidence. J Pak Med Assoc. 2010 Sep 1;60(9):766-8.
Pascale A, Marchesi N, Govoni S, Coppola A, Gazzaruso C. The role of gut microbiota in obesity, diabetes mellitus, and effect of metformin: new insights into old diseases. Curr Opin Pharmacol. 2019 Dec 1;49:1-5.
Calvet HM, Yoshikawa TT. Infect Dis Clin North Am. 2001 Jun 1;15(2):407-21.
Clive S, Cockram C, Wong BCK. Diabetes and Infections. Textbook of Diabetes. Holt RI, Cockram C, Flyvbjerg A, Goldstein BJ (editors). John Wiley & Sons; 2017 Mar 6. 799-820.
Harvey RA, Champe PC, Fisher BD, Strohl WA. Microbiology. Philadelphia: Lippincott Williams & Wilkins. 2007
Van Veen KE, Brouwer MC, Van Der Ende A, Van De Beek D. Bacterial meningitis in diabetes patients: a population-based prospective study. Sci Rep. 2016 Nov 15;6(1):1-7.
Yang TH, Xirasagar S, Cheng YF, Wu CS, Kao YW, Shia BC, Lin HC. Malignant Otitis Externa is Associated with Diabetes: A Population-Based Case-Control Study. Ann Otol Rhinol Laryngol. 2020 Jun;129(6):585-90.
Carlton DA, Perez EE, Smouha EE. Malignant external otitis: the shifting treatment paradigm. Am J Otolaryngol. 2018;39(1):41-45.
Wang TT, Chen TH, Wang PE, Lai H, Lo MT, Chen PY, Chiu SY. A population- based study on the association between type 2 diabetes and periodontal disease in 12,123 middle-aged Taiwanese (KCIS no. 21). J Clin Periodontol. 2009;36(5):372–9.
Ali T, Rumnaz A, Urmi UL, Nahar S, Rana M, Sultana F, Iqbal S, Rahman MM, Rahman NA, Islam S, Haque M. Type-2 Diabetes Mellitus Individuals Carry Different Periodontal Bacteria. Pesqui. Bras. Odontopediatria Clín. Integr. 2021 Apr 2;21.
Brunetti VC, Ayele HT, Yu OH, Ernst P, Filion KB. Type 2 diabetes mellitus and risk of community-acquired pneumonia: a systematic review and meta-analysis of observational studies. CMAJ Open. 2021 Jan;9(1):E62.
Di Yacovo S, Garcia-Vidal C, Viasus D, Adamuz J, Oriol I, Gili F, Vilarrasa N, García-Somoza MD, Dorca J, Carratala J. Clinical features, etiology, and outcomes of community-acquired pneumonia in patients with diabetes mellitus. Medicine (Baltimore). 2013 Jan;92(1):42-50.
Akbar DH. Bacterial pneumonia: comparison between diabetics and non-diabetics. Acta Diabetol. 2001 Jun 1;38(2):77-82.
López-de-Andrés A, Perez-Farinos N, de Miguel-Díez J, Hernández-Barrera V, Jiménez-Trujillo I, Méndez-Bailón M, de Miguel-Yanes JM, Jiménez-García R. Type 2 diabetes and postoperative pneumonia: an observational, population-based study using the Spanish hospital discharge database, 2001-2015. PLoS One. 2019 Feb 6;14(2):e0211230.
Movahed MR, Hashemzadeh M, Jamal MM. Increased prevalence of infectious endocarditis in patients with type II diabetes mellitus. J Diabetes Complications. 2007 Nov 1;21(6):403-6.
Abe T, Eyituoyo HO, De Allie G, Olanipekun T, Effoe VS, Olaosebikan K, Mather P. Clinical outcomes in patients with native valve infective endocarditis and diabetes mellitus. World J Cardiol. 2021 Jan 26;13(1):11.
Abengowe CU, McManamon PJ. Acute emphysematous cholecystitis. Can Med Assoc J. 1974 Nov 16;111(10):1112.
Safwan M, Penny SM. Emphysematous cholecystitis: a deadly twist to a common disease. J Diagn Med Sonogr. 2016 May;32(3):131-7.
Thomsen RW, Jepsen P, Sørensen HT. Diabetes mellitus and pyogenic liver abscess: risk and prognosis. Clin Infect Dis. 2007 May 1;44(9):1194-201.
Li W, Chen H, Wu S, Peng J. A comparison of pyogenic liver abscess in patients with or without diabetes: a retrospective study of 246 cases. BMC Gastroenterol. 2018 Dec;18(1):1-9.
Muller LM, Gorter KJ, Hak E, et al. Increased risk of common infections in patients with type 1 and type 2 diabetes mellitus. Clin Infect Dis. 2005;41:281–8.
Geerlings SE, Meiland R, van Lith EC, Brouwer EC, Gaastra W, Hoepelman AI. Adherence of type 1-fimbriated Escherichia coli to uroepithelial cells: more in diabetic women than in control subjects.Diabetes Care. 2002 Aug; 25(8):1405-9
Atreja A, Kalra S. Infections in diabetes. J Pak Med Assoc. 2015 Sep 1;65(9):1028-30.
Lavery LA, Armstrong DG, Peters EJ, Lipsky BA. Probe- to-bone test for diagnosing diabetic foot osteomyelitis: reliable or relic? Diabetes Care. 2007 Feb;30(2):270-4
Giurato L, Meloni M, Izzo V, Uccioli L. Osteomyelitis in diabetic foot: a comprehensive overview. World J Diabetes. 2017 Apr 15;8(4):135.
Critchley JA, Carey IM, Harris T, DeWilde S, Hosking FJ, Cook DG. Glycemic control and risk of infections among people with type 1 or type 2 diabetes in a large primary care cohort study. Diabetes Care. 2018 Oct 1;41(10):2127-35.
American Diabetes Association. AD Standards of medical care in diabetes--2013.Diabetes Care. 2013;36 (Suppl. 1):S11–S66.
Pearson-Stuttard J, Blundell S, Harris T, Cook DG, Critchley J. Diabetes and infection: assessing the association with glycaemic control in population-based studies. Lancet Diabetes Endocrinol. 2016;4:148–158
Casqueiro J, Casqueiro J, Alves C. Infections in patients with diabetes mellitus: A review of pathogenesis. Indian J Endocrinol Metab. 2012 Mar;16(Suppl1):S27.
Schuetz P, Castro P, Shapiro NI. Diabetes and sepsis: preclinical findings and clinical relevance. Diabetes Care. 2011 Mar 1;34(3):771-8.
Gan YH. Host susceptibility factors to bacterial infections in type 2 diabetes. PLoS Pathog. 2013 Dec 26;9(12):e1003794.
Alexiewicz JM, Kumar D, Smogorzewski M, Klin M, Massry SG. Polymorpho- nuclear leukocytes in non-insulin-dependent diabetes mellitus: abnormalities in metabolism and function. Ann Intern Med. 1995;123:919–924.
Collison KS, Parhar RS, Saleh SS, Meyer BF, Kwaasi AA, et al. (2002) RAGE- mediated neutrophil dysfunction is evoked by advanced glycation end products (AGEs). J Leukoc Biol. 71: 433–444.
Stoeckle M, Kaech C, Trampuz A, Zimmerli W. The role of diabetes mellitus in patients with bloodstream infections. Swiss Med Wkly. 2008;138:512-9. 

Ilyas R, Wallis R, Soilleux EJ, Townsend P, Zehnder D, et al. (2010) High glucose disrupts oligosaccharide recognition function via competitive inhibition: A potential mechanism for immune dysregulation in diabetes mellitus. Immunobiology 216: 126–131.
Geerlings SE, Brouwer EC, VanKessel KC, Gaastra W, Stolk RP, Hoepelman AI. Cy- tokine secretion is impaired in women with diabetes mellitus. Eur J Clin Invest 2000;30:995–1001
Graves DT, Naguib G, Lu H, Leone C, Hsue H, Krall E. Inflammation is more persistent in type 1 diabetic mice. J Dent Res. 2005;84:324–328
Stegenga ME, van der Crabben SN, Dessing MC, et al. Effect of acute hyper- glycaemia and/or hyperinsulinaemia on proinflammatory gene expression, cyto- kine production and neutrophil function in humans. Diabet Med. 2008;25:157–164.
Alberts A, Johnson A, Lewis J, Raff M, Roberts K, Walter P. The Adaptive Immune System. Molecular Biology of the Cell. New York: Garland Science; 2002.
Liberatore RR Jr, Barbosa SF, Alkimin MG, et al. Is immunity in diabetic patients influencing the susceptibility to infections? Immunoglobulins, complement and phagocytic function in children and adolescents with type 1 diabetes mellitus. Pediatr Diabetes. 2005;6:206–212
Lapolla A, Tonani R, Fedele D, et al. Non- enzymatic glycation of IgG: an in vivo study. Horm Metab Res. 2002;34:260– 264
Spatz M, Eibl N, Hink S, et al. Impaired primary immune response in type-1 diabetes. Functional impairment at the level of APCs and T-cells. Cell Immunol. 2003; 221:15–26
Rubinstein R, Genaro AM, Motta A, Cremaschi G, Wald MR. Impaired immune responses in streptozotocin-induced type I diabetes in mice. Involvement of high glucose. Clin Exp Immunol. 2008;154: 235–246.
Frimodt-moller C. Diabetic cystopathy : epidemiology and related disorders. Ann Intern Med. 1980; 92: 318-321.
Fünfstück R, Nicolle LE, Hanefeld M, Naber KG. Urinary tract infection in patients with diabetes mellitus. Clin Nephrol. 2012 Jan 1;77(1):40.
Aumiller WD, Dollahite HA. Pathogenesis and management of diabetic foot ulcers. JAAPA. 2015 May 1;28(5):28-34.
American Diabetes Association. Peripheral arterial disease in people with diabetes. Diabetes Care. 2003 Dec 1;26(12):3333-41.
Kolahian S, Leiss V, Nürnberg B. Diabetic lung disease: fact or fiction? Rev Endocr Metab Disord. 2019 Sep;20(3):303-19.
van de Beek D, Cabellos C, Dzupova O, Esposito S, Klein M, Kloek AT, Leib SL, Mourvillier B, Ostergaard C, Pagliano P, Pfister HW. ESCMID guideline: diagnosis and treatment of acute bacterial meningitis. Clin Microbiol Infect. 2016 May 1;22:S37-62.
Pomar V, de Benito N, Mauri A, Coll P, Gurguí M, Domingo P. Characteristics and outcome of spontaneous bacterial meningitis in patients with diabetes mellitus. BMC Infect Dis. 2020 Dec;20:1-9.
Carfrae MJ, Kesser BW. Malignant otitis externa. Otolaryngol Clin North Am. 2008 Jun 1;41(3):537-49.
Ciorba A, Cultrera R, Di Laora A, Grilli A, Bianchini C, Aimoni C. Malignant otitis externa in the antibiotic resistance era: key to successful treatment. B-ENT. 2018. 14:119-123
Preshaw PM, Alba AL, Herrera D, Jepsen S, Konstantinidis A, Makrilakis K, Taylor R. Periodontitis and diabetes: a two-way relationship. Diabetologia. 2012 Jan;55(1):21-31.
D'Aiuto F, Gkranias N, Bhowruth D, Khan T, Orlandi M, Suvan J, Masi S, Tsakos G, Hurel S, Hingorani AD, Donos N. Systemic effects of periodontitis treatment in patients with type 2 diabetes: a 12 month, single-centre, investigator-masked, randomised trial. Lancet Diabetes Endocrinol. 2018 Dec 1;6(12):954-65.
Huang TT, Tseng FY, Liu TC, Hsu CJ, Chen YS. Deep neck infection in diabetic patients: comparison of clinical picture and outcomes with nondiabetic patients. Otolaryngol Head Neck Surg. 2005 Jun;132(6):943-7.
Saibal MA, Rahman SH, Nishat L, Sikder NH, Begum SA, Islam MJ, Uddin KN. Community acquired pneumonia in diabetic and non-diabetic hospitalized patients: presentation, causative pathogens and outcome. Bangladesh Med Res Counc Bull. 2012;38(3):98-103.
Metlay JP, Waterer GW, Long AC, Anzueto A, Brozek J, Crothers K, Cooley LA, Dean NC, Fine MJ, Flanders SA, Griffin MR. Diagnosis and treatment of adults with community-acquired pneumonia. An official clinical practice guideline of the American Thoracic Society and Infectious Diseases Society of America. Am J Respir Crit Care Med. 2019 Oct 1;200(7):e45-67.
American Diabetes Association. 4. Comprehensive Medical Evaluation and Assessment of Comorbidities: Standards of Medical Care in Diabetes—2021. Diabetes Care. 2021 Jan;44(Supplement 1):S40-52.
Habib G, Lancellotti P, Antunes MJ, Bongiorni MG, Casalta JP, Del Zotti F, Dulgheru R, El Khoury G, Erba PA, Iung B, Miro JM. 2015 ESC guidelines for the management of infective endocarditis: the task force for the management of infective endocarditis of the European Society of Cardiology (ESC) endorsed by: European Association for Cardio-Thoracic Surgery (EACTS), the European Association of Nuclear Medicine (EANM). Eur Heart J. 2015 Nov 21;36(44):3075-128.
Patterson JE, Andriole VT. Bacterial urinary tract infections in diabetes. Infect Dis Clin North Am. 1997;11(3):735–750.
Joshi N, Caputo GM, Weitekamp MR, Karchmer AW. Infections in patients with diabetes mellitus.N Engl J Med. 1999;341(25):1906–1912
Mnif MF, Kamoun M, Kacem FH, et al. Complicated urinary tract infections associated with diabetes mellitus: pathogenesis, diagnosis and management.Indian J Endocrinol Metab. 2013;17(3):442–445.
Kofteridis DP, Papadimitraki E, Mantadakis E, et al. Effect of diabetes mellitus on the clinical and microbiological features of hospitalized elderly patients with acute pyelonephritis. J Am Geriatr Soc. 2009;57(11):2125–2128.
Nitzan O, Elias M, Chazan B, Saliba W. Urinary tract infections in patients with type 2 diabetes mellitus: review of prevalence, diagnosis, and management. Diabetes Metab Synd Obes. 2015;8:129.
Lipsky BA, Tabak YP, Johannes RS, Vo L, Hyde L, Weigelt JA. Skin and soft tissue infections in hospitalised patients with diabetes: culture isolates and risk factors associated with mortality, length of stay and cost. Diabetologia. 2010 May;53(5):914-23.
Suaya JA, Eisenberg DF, Fang C, Miller LG. Skin and soft tissue infections and associated complications among commercially insured patients aged 0–64 years with and without diabetes in the US. PLoS One. 2013 Apr 10;8(4):e60057.
Ndosi M, Wright-Hughes A, Brown S, et al. Prognosis of the infected diabetic foot ulcer: a 12-month prospective observational study. Diabet Med 2018;35:78-88.
Lavery LA, Armstrong DG, Murdoch DP, Peters EJ, Lipsky BA. Validation of the Infectious Diseases Society of America's diabetic foot infection classification system. Clin Infect Dis 2007;44:562-5.
Tan TW, Shih CD, Concha-Moore KC, et al. Disparities in outcomes of patients admitted with diabetic foot infections. PLoS One 2019;14:e0211481.
Ndosi M, Wright-Hughes A, Brown S, et al. Prognosis of the infected diabetic foot ulcer: a 12-month prospective observational study. Diabet Med 2018;35:78-88.
Ince P, Abbas ZG, Lutale JK, Basit A, Ali SM, Chohan F, et al. Use of the SINBAD classification system and score in comparing outcome of foot ulcer management on three continents. Diabetes Care. 2008;31(5):964-7.
Monteiro‐Soares M, Russell D, Boyko EJ, Jeffcoate W, Mills JL, Morbach S, Game F, International Working Group on the Diabetic Foot (IWGDF). Guidelines on the classification of diabetic foot ulcers (IWGDF 2019). Diabetes Metab Res Rev. 2020 Mar;36:e3273.
Lipsky BA, Senneville É, Abbas ZG, Aragón‐Sánchez J, Diggle M, Embil JM, Kono S, Lavery LA, Malone M, van Asten SA, Urbančič‐Rovan V. Guidelines on the diagnosis and treatment of foot infection in persons with diabetes (IWGDF 2019 update).Diabetes Metab Res Rev. 2020 Mar;36:e3280.
Smith G L, Bunker C B, Dineeen M D. Fournier's gangrene.Br J Urol 1998 Mar;81(3):347-55.
Morpurgo E, Galandiuk S. Fournier's gangrene. Surg Clin North Am. 2002 Dec 1;82(6):1213-24.
Thwaini A, Khan A, Malik A, Cherian J, Barua J, Shergill I, Mammen K. Fournier's gangrene and its emergency management. Postgrad Med J. 2006 Aug 1;82(970):516-9.
Bersoff-Matcha SJ, Chamberlain C, Cao C, Kortepeter C, Chong WH. Fournier Gangrene Associated With Sodium-Glucose Cotransporter-2 Inhibitors: A Review of Spontaneous Postmarketing Cases. Ann Intern Med. 2019 Jun 4;170(11):764-769.
Yaghan RJ, Al-Jaberi TM, Bani-Hani I. Fournier's gangrene. Dis Colon Rectum. 2000 Sep 1;43(9):1300-8.
Lin C, Yeh FL, Lin JT, Ma H, Hwang CH, Shen BH, et al. Necrotizing fasciitis of the head and neck: an analysis of 47 cases.Plast Reconstr Surg. 2001;107(7):1684–93.
Giuliano A, Lewis F, Jr, Hadley K, Blaisdell FW. Bacteriology of necrotizing fasciitis.Am J Surg. 1977;134(1):52–7.
Cheng NC, Tai HC, Chang SC, Chang CH, Lai HS. Necrotizing fasciitis in patients with diabetes mellitus: clinical characteristics and risk factors for mortality. BMC Infect Dis. 2015 Dec;15(1):1-9.
Jain R, Brown M, Boynton EL. Not another Diabetic Foot Infection: A Case Report of Charcot's Joint. Can J Plastic Surg. 1996 Dec;4(4):1-6.
Varma AK. Charcot neuroarthropathy of the foot and ankle: a review. J Foot Ankle Surg. 2013 Nov 1;52(6):740-9.
Mabeku LB, Ngamga ML, Leundji H. Helicobacter pylori infection, a risk factor for Type 2 diabetes mellitus: a hospital-based cross-sectional study among dyspeptic patients in Douala-Cameroon. Sci Rep. 2020 Jul 22;10(1):1-1.
Bener A, Ağan AF, Al-Hamaq AO, Barisik CC, Öztürk M, Ömer A. Prevalence of Helicobacter pylori infection among type 2 diabetes mellitus. Adv Biomed Res. 2020;9:27.
Chakraborty S, Bhattacharyya R, Banerjee D. Infections: a possible risk factor for type 2 diabetes. Adv Clin Chem. 2017 Jan 1;80:227-51.